ANMF (Vic Branch) 2018 -
the year that was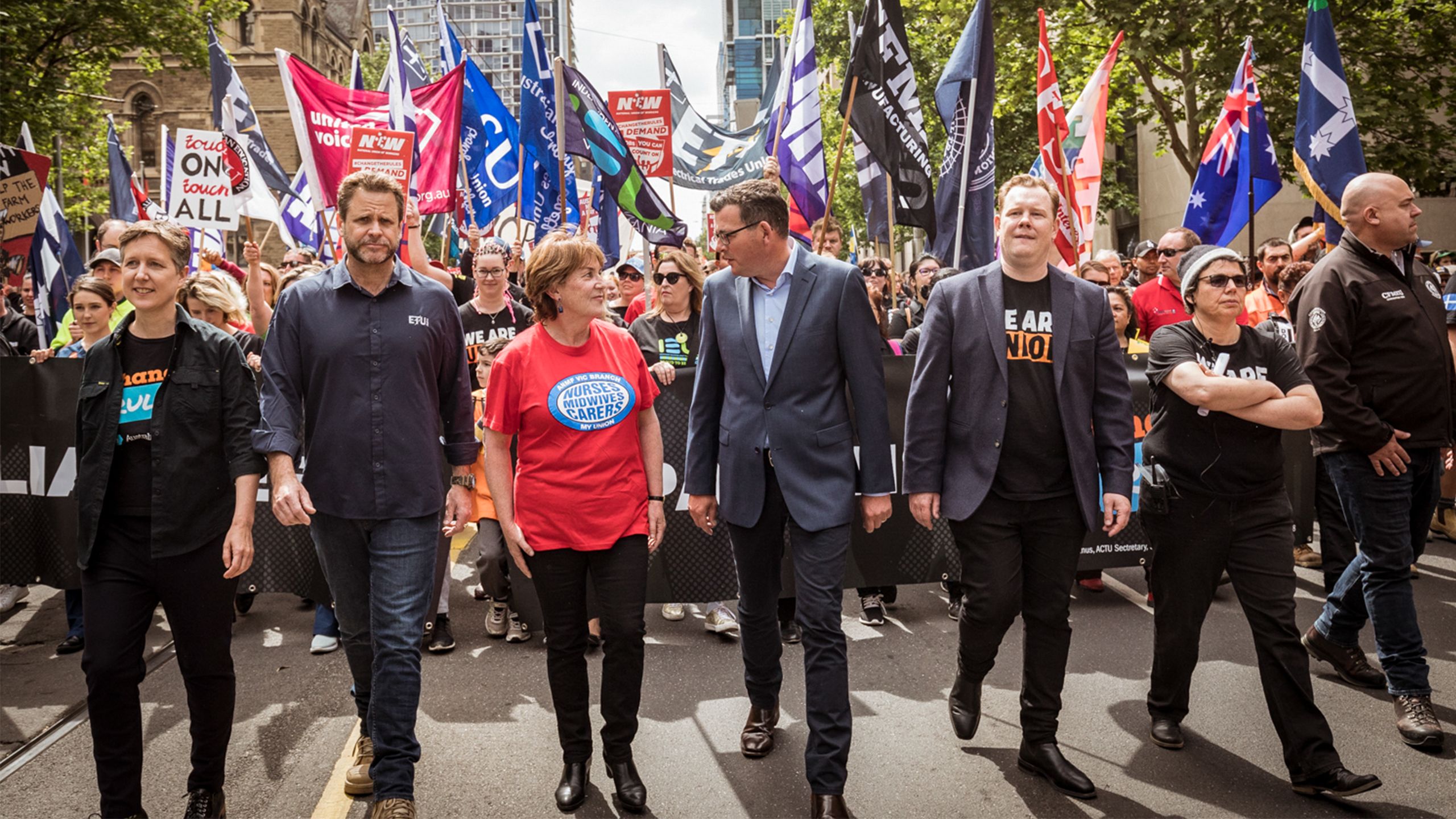 Union leaders including ANMF (Vic Branch) Secretary Lisa Fitzpatrick and Premier Daniel Andrews at October's 'Change the Rules' march
Union leaders including ANMF (Vic Branch) Secretary Lisa Fitzpatrick and Premier Daniel Andrews at October's 'Change the Rules' march
Our strength is growing
ANMF is Australia's biggest union - and your Victorian Branch began 2018 with a record membership of more than 80,000 nurses, midwives and carers.
Our collective might serves in negotiating your enterprise agreements but also for lobbying government over issues that affect your job satisfaction and patient/resident care, such as legislating staffing ratios in private nursing homes, and improving public sector nurse/midwife: patient ratios.
Campaigning for change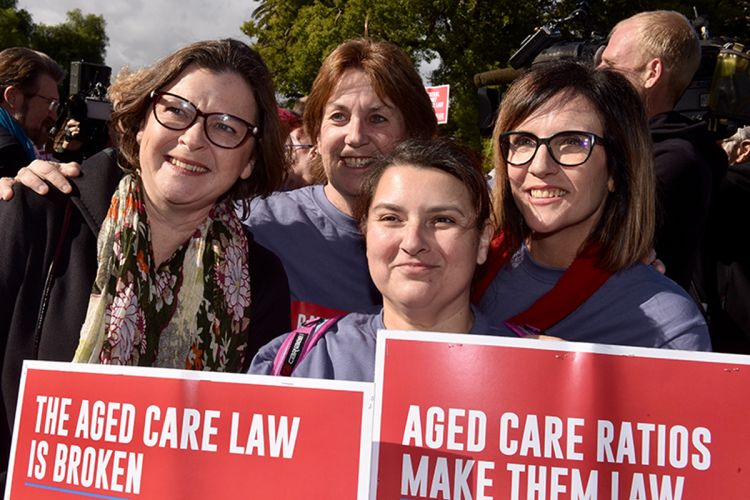 Hundreds of members of the ANMF and the community braved a cold, drizzly day for the Victorian launch of a national campaign for staffing ratios in private aged care at Moonee Ponds on International Nurses Day, 12 May.
In the lead-up to the launch, ANMF (Vic Branch) set up a stall at Moonee Ponds Central shopping centre, talking to community members about the dire situation of nurses and personal care workers in private nursing homes and their unreasonable, sometimes dangerous, workloads.
After the ABC's Four Corners broadcast shocking coverage of neglect and mistreatment of elders in nursing homes, we held a snap rally demanding immediate action on mandated staffing ratios.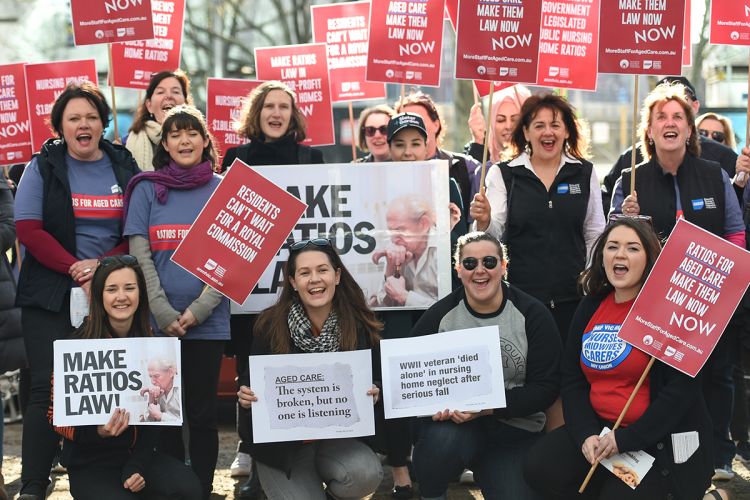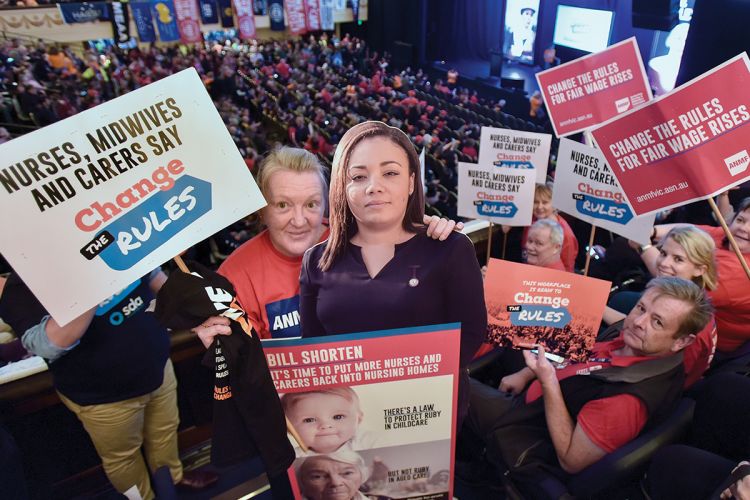 In April ANMF (Vic Branch) members joined with other union members in a mass delegates' meeting at Melbourne Town Hall. ACTU Secretary Sally McManus called for industrial law reform to address wage stagnation and the worst social inequality in 70 years. We need to 'Change the rules'. For ANMF members, the campaign also feeds into the push to 'change the rules' that currently enable under-staffing in private aged care.
In May ANMF (Vic Branch) members were among a 120,000-strong 'Change the rules' march of union members through Melbourne streets, with a second march of up to 160,000 unionists held in October.
We extended the care and compassion of the nursing, midwifery and personal care sectors to the 24,800 Victorians who are homeless on any given night, granting a total of $7 million over two financial years to Launch Housing and Wintringham – Specialist Aged Care to build housing for homeless families and older people in both metropolitan and regional Victoria, with priority given to nurses, midwives and carers.
Industrial wins and support
We're proud to say that in 2018 we negotiated the first enterprise agreement with a major private aged care provider that includes minimum staffing ratios. The agreement with TLC Aged Care, approved by the Fair Work Commission, also includes a skill mix clause. While we still need to improve on the clauses, it's an important start. It was a busy industrial year, with enterprise agreements covering 359 workplaces coming up for renegotiation.
We championed the advocacy of midwife members at Bendigo Health, Peninsula Health and Ballarat Health services who raised concerns about clinical risk and provided supporting data, leading to additional staffing being rostered at their hospitals.
In accordance with the 2016–20 public sector EBA, the Branch, as part of the Service Delivery Partnership Plan Working Group, commenced consultation with public sector nurse unit managers and midwifery unit managers, and directors of nursing and midwifery, about a new classification framework to be introduced in April 2019.
We threw our support behind nurse members working for Healthscope after the shock closures of the company's Cotham Private and Geelong Private hospitals, and restructuring at Melbourne Private, John Fawkner and Ringwood Private hospitals.
ANMF negotiated enhanced redundancy packages for members who lost their jobs and provided assistance with finding new positions. Health Minister Jill Hennessy offered hope to more than 200 nurses affected by the Cotham and Geelong Private closures, announcing the government would preference them for 117 new jobs within Barwon Health and other metropolitan networks.
We continue to work to implement the many benefits of the 2016–20 public sector mental health enterprise agreement. These include the Community Workload Management System, additional nursing allocations, as well as the improved minimum nursing levels for high dependency units. Throughout the year we have witnessed a steady growth in both public and private mental health membership.
Building the knowledge base
Members gathered knowledge and CPD points at our conferences and workshops – on the new National Safety and Quality Service Standards, environmental sustainability in healthcare, occupational health and safety and a plethora of topics at the Australian Nurses & Midwives Conference.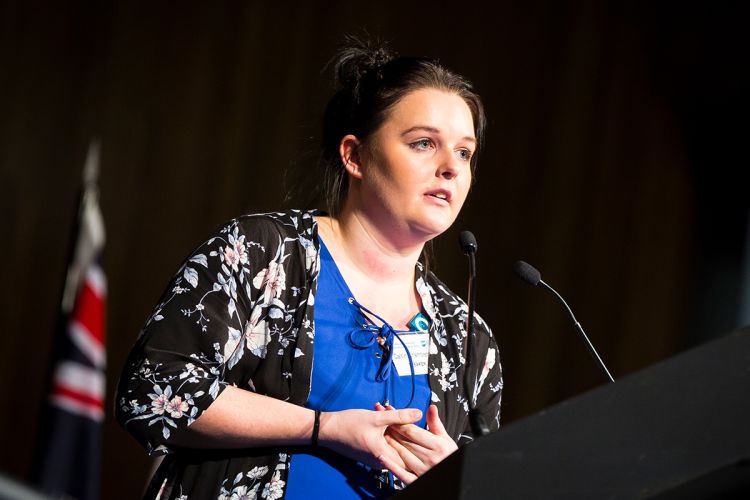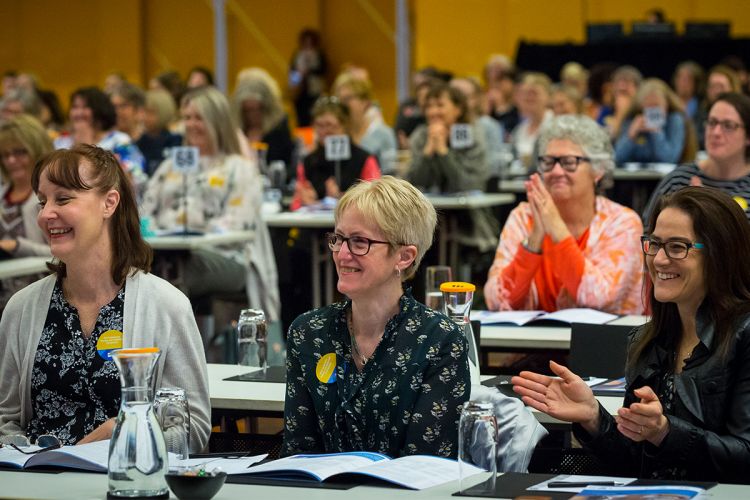 We held an information day on alcohol and other drug nursing, hosting a panel of dedicated AOD nurses to share their experiences of working in this inspiring and diverse sector. Mental Health Minister Martin Foley also presented, sharing the good news that the medically supervised injecting room trial in Richmond had already saved up to 140 lives.
At our Annual Delegates Conference long-serving Job Rep Terry Swanson was a most deserving recipient of the Hannah Sellers Job Representative of the Year award and Sara Jorgensen and Sally Collier-Clarke from Bendigo Health were jointly awarded HSR of the Year for their advocacy around night shift staffing.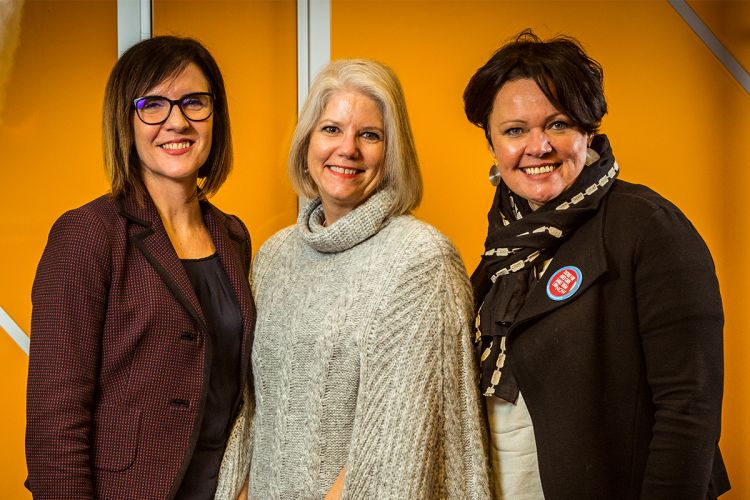 We introduced new courses on asthma management and managing babies' skin conditions, and two new courses fully funded by the Andrews Government –'Comprehensive health assessment of the older person' and 'Alcohol and other drugs'. We also offered $500,000 in grants to eligible members undertake post-registration and postgraduate (certificate/ diploma) education.
No health without a healthy planet
ANMF (VicBranch) joined the chorus of Victorians calling for a ban on non-compostable plastic bags. At our Health and Environmental Sustainability Conference the 'War on Waste's' Craig Reucassel and Planet Ark's Sean O'Malley urged nurses, midwives and carers to keep recycling and advocating against single-use plastic products.
We also welcomed the beginning of a two-year Victorian Government waste education project in public hospitals, led by Waste Education Officer Rachel McConville. And we cheered as our 'Nursing for the Environment' course was named as a finalist in the Victorian Premier's Sustainability Awards health category.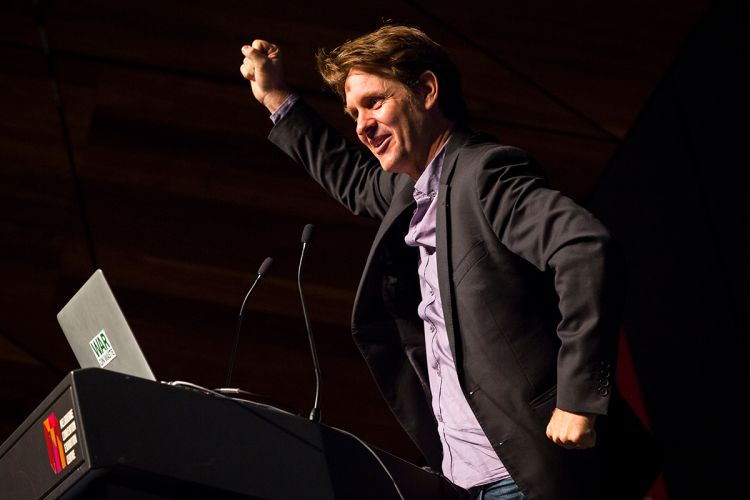 Advocacy for member safety in the workplace
ANMF (Vic Branch) continued to follow up with public health services to ensure compliance with occupational health and safety requirements of the 2016 public sector enterprise agreement, including the requirement for health services to have occupational violence and aggression action plans.
We called meetings after members' reporting of violence and aggression at Koorooman House nursing home in Leongatha, Northern Hospital and Latrobe Regional Hospital, securing undertakings from management for measures that would improve the safety of staff and patients/residents.
More investigation needed on family violence
University of Melbourne researchers Elizabeth McLindon, Kelsey Hegarty and Cathy Humphreys announced disturbing findings of a study of the prevalence of partner violence against female health professionals working in a tertiary maternity hospital. The study found that 45 per cent had experienced violence from a partner or family member during their lifetime, and 12 per cent had been raped by a partner during their lifetime. The Andrews Government-funded Nursing and Midwifery Health Program Victoria made it known to ANMF members that it was a safe haven to disclose experience of family violence and a referral point to specialist services if required.
Lead researcher Elizabeth McLindon presented to the ANMF (Vic Branch) Council which agreed to provide funding and support for a member survey to establish members' experience of family violence and sexual assault, and subsequent support needs. The two-year study will begin in 2019.
Perinatal services inquiry
The Branch welcomed the recommendations of the Victorian Parliamentary Inquiry into Perinatal Services, particularly those aimed at supporting an increase of midwives in the health system. We contributed to the inquiry in writing and in person, highlighting the importance of support and screening for mental health issues during the perinatal period, and approaches where midwives, maternal and child health nurses, and mental health nurses work side-by-side.
Supporting government in bold health policy
Our members are working with vulnerable Victorians every day – people with mental health issues, people with addictions – so we have stood by the Andrews Government in making bold policy decisions that we know will help these patients.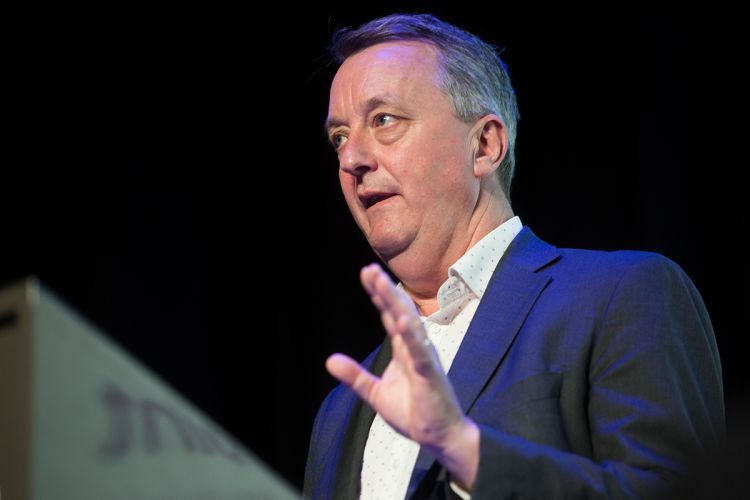 We applauded the beginning of the medically-supervised safe injecting room trial in Richmond in June and the announcement of six emergency department 'crisis hubs' for patients presenting with mental health and addiction issues. We also lobbied the Federal Government to save dedicated funding to the Mental Health Nurse Incentive Program, a vital service supporting people with severe and persistent mental illness to remain well and living in the community.
Farewells and welcomes
There were sad times in 2018. This year marked the passing of our friend, Fairfax cartoonist Ron Tandberg, whose work often showed an insight into the work of nurses and midwives, and skewered governments who dared to disrespect us during enterprise agreement campaigns.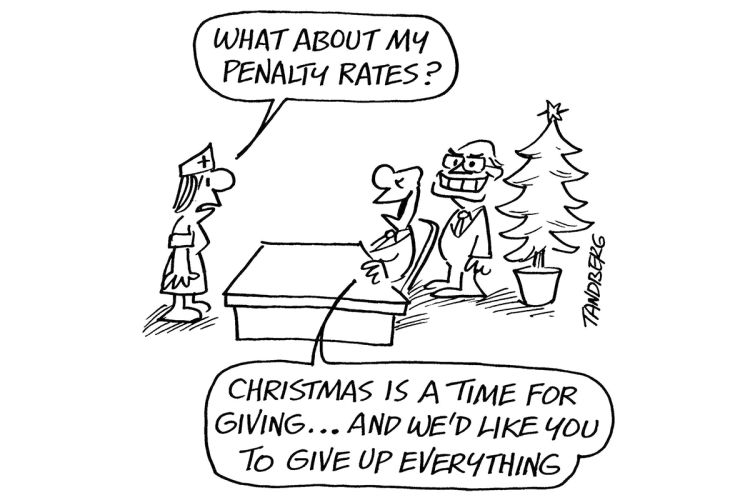 We paid tribute to Emeritus Professor Judith Lumley AM, who passed away in October, having made a towering contribution in her lifetime to maternal and infant health research and evidence-based practice in Victoria.
We welcomed new friends, forming a partnership with Gordon Legal, long-term champions of working people, to provide legal services to members.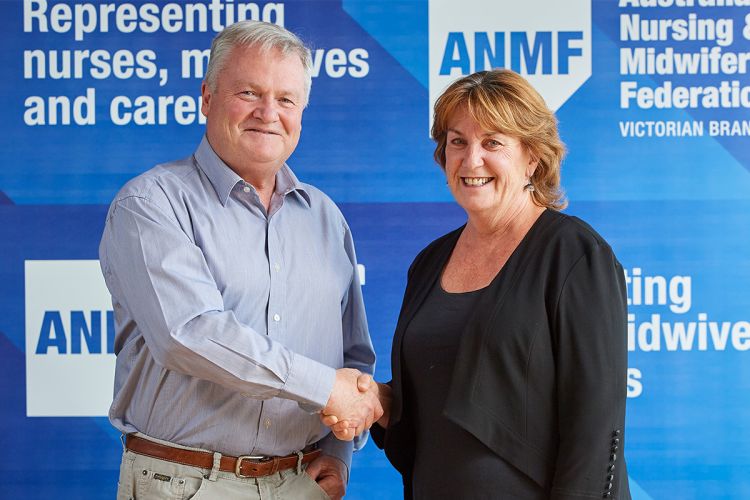 There were changes in the way we communicate with members, with the last printed On the Record sent out in September and the launch of our new On the Record website and digital publication from October 2018. We also launched a new printed quarterly magazine, The Handover, which was sent to our members with the federal magazine, the now-quarterly ANMJ, in October.
Happy Christmas and
all the best for 2019
The ANMF (Vic Branch) office will close
from 1pm on Monday 24 December
and will re-open on Wednesday 2 January 2019.

We wish all our members - and your families and friends
- a happy and safe Christmas period and our best wishes
for the year ahead.